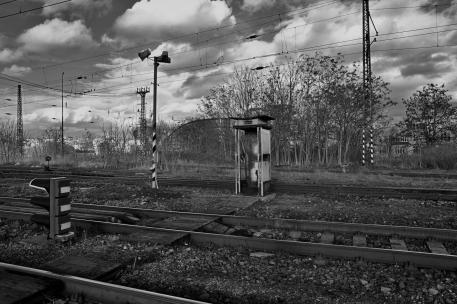 Temporary Silence Radio
The radio impro-site-specific situation Silence Radio aka Papular pulls back the hidden layers of memory from Holešovice between Veletržní palác (Trade Fair Palace) and Bubny railway station. During the second world war, a detention area for in total 45,513 Jewish citizens, (37,667 of whom did not survive), was located in the buildings of the former Radiotrh (Radiotrade), located between the Trade Fair Palace and today's Park Hotel. The trains departing from Bubny distributed the Jewish Prague citizens to the ghettos and concentration camps across Eastern Europe. After the liberation in 1945, Prague Germans were deported from the same station. A live-radio collage interconnects the archival memories of the witnesses of these transports with the local soundscapes of today, transmitted from five points between Radiotrh and Bubny station. This live broadcast will be streamed from the Locus Sonus server, and parts will be folded into the stream of the program #LutherLenin of the Corax Radio - a tribute to the anniversary of two revolutions that framed the dawn and fall of modern Europe. But the Shoa will be always the dark side of the driving force of revolutionary ideas East or West.
listen between 2 and 8 pm
https://www.goethe.de/ins/cz/cs/m/ver.cfm?fuseaction=events.detail&event...
http://locusonus.org/soundmap/051/
http://locus.creacast.com:9001/prague_radio_silence.ogg
thanks to Locus Sonus, Radio Corax, Institute of Intermedia, FAMU
Photo: Tomáš Vodňanský